Adopt the Green Sea Turtles (Symbolic)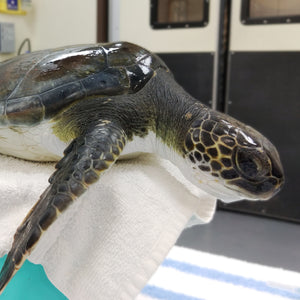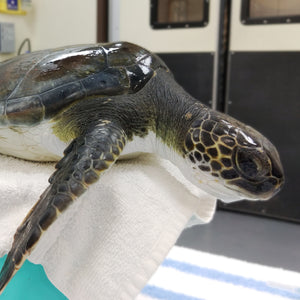 Adopt the Green Sea Turtles (Symbolic)
Want to stay connected and support the Georgia Sea Turtle Center? Symbolically adopting our rehabilitation patients is a great way to continue learning about sea turtles and stay connected. Symbolic adoptions make fantastic gifts! 
What's included in the Adopt-a-Sea Turtle Package?* 
Personalized Certificate of Adoption (electronic)

Letter about the Georgia Sea Turtle Center

Digital photograph of your adopted turtle

Species Profile

Minimum of five email updates, including a photo of a green sea turtle

Email notice of all public GSTC release dates within the adoption period when available. (Release dates are subject to change without notice at any time.)
*Allow 1-2 weeks for processing. If you do not receive emails from us within this time frame, please check your spam folders. All emails will be sent by gstceducation@jekyllisland.com.
To Symbolically Adopt a Turtle as a Gift:
If you would like to purchase a Symbolic Adoption package as a gift, please fill in the order information boxes with the Gift Recipient's information. We will not delay processing packages for birthdays, anniversaries, or other gifts. Here is our suggestion for keeping it a surprise:
Fill in the gift recipient's name in the box that says, "Name on Certificate."

To keep it a surprise, write in your email address in the "Recipient Email Address" box. This will ensure that you receive adoption emails and not the eventual gift recipient. 

After you have gifted the adoption, email us at gstceducation@jekyllisland.com to request that we change the email address associated with the adoption to the gift recipient's email address.

 
About the Green Sea Turtles
Green sea turtles are one of the five sea turtle species found in Georgia. They can reach up to five feet in length, but most of the green sea turtles in Georgia are smaller juveniles. Each of our green sea turtle patients have a unique medical challenge that brought them here. Our vet staff are working hard to help them recover, heal, and hopefully return to the wild. 


If you have any questions, contact us via telephone at (912) 635-4141 or email us at gstceducation@jekyllisland.com. Please include "Adopt-a-Sea Turtle" in the subject line. 
If you are not completely satisfied with your purchase, you may return the item within 14 days of receiving it for exchange or credit ONLY (excludes custom orders). Item must be in its original packaging and in perfect, unused condition. Sorry, shipping costs will not be refunded.