Adventures in Extreme Golf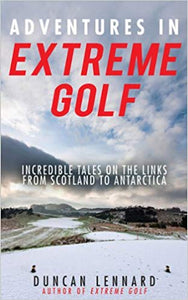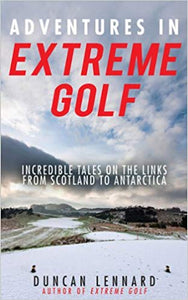 Adventures in Extreme Golf
For many golfers, the innocent thrill of striking a drive clearly, avoiding a deep bunker, or holing out an unlikely putt is all they need to make a round (or a whole year) of golf memorable. But there's an obsessed subculture of modern players in search of something more. They've rediscovered the magic of the game in Adventures in Extreme Golf, and their adventures are about to inspire golfers everywhere.
Follow golfers like Andre Tolme and Torsten Schilling who go to Mongolia to play in a par 11,880 course, to 12,000 feet at Snowmass in Aspen, to the "naked open" in New Zealand, and to the freezing temperatures of Antarctica.
Duncan Lennard describes a world at the very edge of sport, where the courses may be only ten holes long, but the average length of each hole is 638 yards. Learn that your resilience, and not just a pretty swing, determines your success.
Adventures in Extreme Golf will take you all over the world and show you that a par four is nothing compared to these holes. See courses you've only seen in your dreams (or rather, your nightmares) and follow Duncan Lennard as he takes you on a trip to see why these courses and holes are considered "extreme."
If you are not completely satisfied with your purchase, you may return the item within 14 days of receiving it for exchange or credit ONLY (excludes custom orders). Item must be in its original packaging and in perfect, unused condition. Sorry, shipping costs will not be refunded.